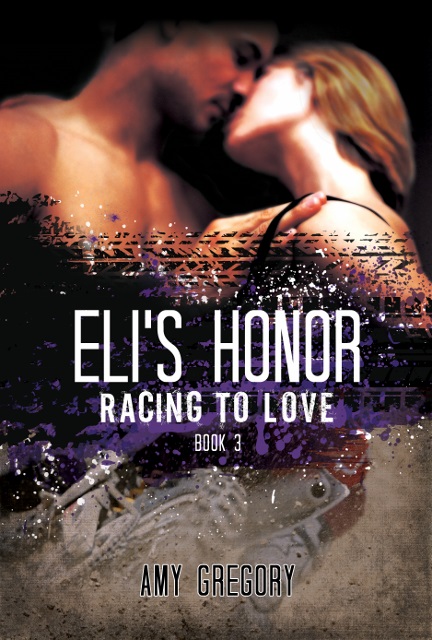 It's always fun catching up with author friends around the world and today I'm talking to Amy Gregory about her latest book!
What a whirlwind last few months as I leaped into the world of self-publishing from a more traditional publishing experience. As I thought about the release of Eli's Honor I was struck by the realization that my family is growing older.  Not my 'real family', although, my kids have somehow grown like weeds this summer!  No, I mean my 'other family'; my fictional one.  My 'boys' and their loves were starting families and it was all happening at lightening speed. In the first three books of the Racing to Love series, Carter's Treasure, Brody's Love and Jesse's Soul, all three of the boy's stories occurred within a few months of each other.  I wanted to change it up with Eli's Honor, so I opened the story four years down the road from Carter and Jesse.
The main thing I noticed was how different it was writing Eli's story from my other boys. Of course my writing style didn't change in the respect that I don't plot out my stories, at all! Obviously when writing a series, I have the main set of characters already in some form of development and a general idea of what their "story" is going to be, but when it was Eli's turn I found his life had us in a different environment and at a much different point in his life.  For starters, he's retired from racing and the book is the first of two not set during the professional racing season.
Many people ask me if it's hard to jump four years into the future, but I can honestly tell them it's not. They always ask me why and the answer is simple; because in my crazy mind, I've just gone along with the Nolands the last four years as the family grew and changed as each and every one of their lives evolved.  Just like any 'real' family has drama and life-changing events, so too does every fictional one, especially those in a series.  I didn't plan Eli's story, all I really knew was the name of the book and came with the choosing of Jesse's Soul.  Eli's story just began to flow from my fingers because I'll be honest, Eli is my favorite of the boys. As I wrote I began to get to know Honor and as her personality began to shine through I knew I had gotten lucky again. From what my reviewers are saying, Eli and Honor have an electric chemistry and the story is sweet with lots of hot, hot, hot! Eli's story was just so organic and real to me it just poured out.  His joy, pain, confusion and excitement—I felt it.  I know that makes me sound like a lunatic…well, I do have full on conversations with imaginary characters…typing them as I go makes me sound less crazy!
If there is one thing I can promise you in all of my boy's stories it's a happy ending. It may be a hell of a ride getting to it, but writing for me is about the alligator tears, huge smile and happy heart as they see their future in front of them.   With Eli's Honor and Alex's Destiny, the final installment to the series, I laughed and I cried and one thing I've learned is if the author cries while writing it then you've hit a home run.  So as I sit trackside and write with tears rolling down my face or laughter bubbling up from within I don't even care that I look like a lunatic, because writing stories people enjoy is all I care about it and its worth everything to write 'the end' to another happy ending.
Blurb:
How can you miss something you never had?
Retired pro motocross racer Eli Hunter had it all; at least that's how he chose to look at things. His life revolved around the sport he loved and he had been catapulted to rock star status. Eli loved the feel of a bike under him as he raced, even…when it almost killed him.
After fighting back from a debilitating injury, Eli has devoted his life to The Noland Racing Academy. As far as Eli was concerned that was all he'd ever need, that is until he sat across from Dallas, a young up and coming racer, and his widowed mother, Honor. It was then that Eli realized exactly what he had been missing.
The prospect of sending her son off to The Noland's RacingAcademy was daunting enough without being faced by the devil in a pair of blue jeans. When Honor held the door open for Eli Hunter she knew she was letting him walk right into her life, but she refused to let him into her heart.
Eli has never backed down from a challenge and he wasn't about to stop now. Not when those long auburn curls and shy violet eyes were the answer to his unspoken prayers.
Excerpt:  (Airport)
     Eli paced. Checked the monitors for arrivals, looked at his watch and paced again.
The movements had been the same for over the last half-hour. The plane was due any minute, and Eli felt like a little child impatiently waiting on the word go to open a present. When he had spoken to Honor on the phone the previous night, she gave him no reason to think she'd back out, but a piece of him wasn't going to be at ease until he saw her with his own eyes.
The anticipation of the plane's arrivals was also uncommon. Most students that came to the academy came for a week. Most students that came were brought by their parents in an RV, hauling their bike or bikes, depending on their financial situation. Most students came with a need to improve on the basics or their parents had the money to send them because of the academy's reputation.
Dallas Graham wasn't…most students.
Once in a lifetime there was an exception to every rule, and Dallas was that exception.
So was his mother.
Eli grinned picturing the sweet shock that had swept across her face when he'd grabbed her hand. He'd fallen for the way her violet eyes went wide in surprise at his touch, the tilt of her chin waiting on his reason for holding her hand. Eli melted at the soft surrender he witnessed in her when he'd whispered the one word please. In that simple moment, she let out a faint sigh, a smile tugged at the corners of her mouth, and she gave a slight nod.
Even with Molly's words in the back of his mind, he had gone to their home prepared to meet a mother who was going to beg him to help her son. Instead he stood begging her to come to him. Seeing the plane's nose, he grinned to himself and his heart sped at the sight of the plane slowly lining up at the gate.
They finally arrived.
Suddenly his head went blank, he blinked several times and felt his palms go clammy. If he didn't know better, he'd think he was having a heart attack, or at the very least a panic attack. He knew differently.
He was nervous.
Excited but nervous. About a girl. Actually a woman, but still, same damn effect. Cruising down the straightaway and getting closer every day to the big three-O, one would think he'd outgrown that by now, but as he watched Dallas come around the corner of the jet way, his pulse quickened with anticipation. Seeing Honor round it just behind him had Eli's heart pounding double-time.
She looked beautiful. Her hair was down this time and his breath caught, seeing the long, loose waves that reached her lower back. She had worn very little makeup when he'd met her last week, looking very much the girl next door, but today she was anything but. She was in nothing more than a simple t-shirt and jeans, but her eyes were killer. She looked amazing.
Unfortunately for Eli, his wasn't the only head that had turned. He watched as the man behind her tried several times to strike up a conversation just in the short time it took to walk up the jet way. Eli chuckled to himself watching her politely nod then ignore the man, getting more visibly frustrated with each passing moment.
Always one to help a lady out, Eli swooped in.
As she walked out of the secured area with the stranger still on her heels, Eli snaked his arm around her waist, pulled her close and kissed her cheek.
"Hi, honey. I've missed you so much. I'm so glad you're home." His voice was loud enough for the eavesdropper and laced with the promise of welcome-home sex.
He nuzzled against her, keeping eye contact with the stranger behind her. A little old-fashioned, but he claimed her publicly for all to see. He had marked his territory.
Honor's face went wide with surprise, but quickly relaxed. He assumed she'd caught on to his ploy. Eli nodded to the man not far behind her, tempting him to dare say another word to the woman he still had in his arms. Eli guessed Honor thought it was an act, but in reality he didn't like the thought of another man around his woman.
His.
That thought would have scared the shit out of him years ago. Hell, even a few months ago. Just like Carter and Molly, then Jesse and Emery, it was the right person at the right time. Eli thought about Honor for days, processed his feelings, and came to the conclusion with absolute certainty. Honor was his. He was pretty sure that she was entirely unaware of the fact but he had a month to convince her. A month to make her fall in love with him. A month to persuade her to stay in Pennsylvania.
Suddenly the confidence he had in his plan wavered. A month didn't seem like near enough time.
"I missed you too, Eli." Her voice was quiet and sweet, not nearly as embellished as Eli's had been.
His stomach clinched at her admission, reading way more into what she probably meant, but it was music to his ears.
With her back to the stranger, the other man couldn't see the deep red in her cheeks, but it made Eli's heart soar. Something about the flush and embarrassed smile made her seem innocent and young. Poor Dallas had turned his back to keep from laughing, and Eli took a long minute to take in Honor's presence. The gaze proved to be too much for her. She grinned and broke the eye contact.
About the Author
Amy Gregory leads an incredibly active lifestyle in Kansas City with her husband and their three fantastic kids who keep them running in three very different directions. Amy is known for her snarky, off the cuff sense of humor, which you'll find shining through in the characters she's created.
I've spent my whole life trying to figure out what I want to be when I grow up, and now I've finally found it. — Amy Gregory
Blog:  http://amygregory548.blogspot.com
Twitter:  @amygregory548
Amazon:  http://www.amazon.com/Amy-Gregory/e/B008AV4NM2/ref=ntt_athr_dp_pel-1
Facebook:  https://www.facebook.com/amygregoryauthor548?fref=ts
Goodreads: https://www.goodreads.com/author/show/4809074.Amy_Gregory
Barnes & Noble: http://www.barnesandnoble.com/w/elis-honor-amy-gregory/1115995424?ean=2940148331506