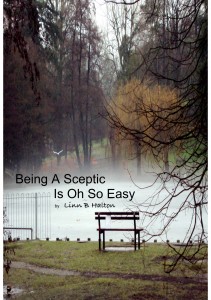 This isn't a work of fiction: it's a true story which is 'a diary' in some respects of my psychic experiences, but also an honest account of why and how I've come to believe there is life after death…

Anne Nowlin, new writer:-
"I usually don't read non-fiction, but I was quickly caught up in this book. I've always believed in spirits, but I've never actually met anyone that had a true experience with the supernatural. When the author recounted the incidents that led her to her beliefs, I was astounded. I have had dreams where I would later feel deja vu, but what she went through was incredible.
The book reinforced some ideas I had about the afterlife, as well as gave me some completely new ideas. In the end, I was left me hopeful and comforted to know we're not alone."
Sue Uden, author:-
"Being a Sceptic is Oh So Easy does not set out to turn the reader from a determined sceptic into an ardent believer. It is more the intimate sharing of Linn Halton's personal journey on that path. It is a brave and thought provoking thesis on many things spiritual and paranormal. If you have ever felt a shiver as 'someone walked over your grave', instinctively believed that a loved one was helping, or influencing, you from beyond the grave, or maybe visited a clairvoyant and been amazed by the truth of what you heard – then you will identify with something in this book! A specialist, but nevertheless inspirational and fascinating read which I would recommend to anyone with an open mind."
Nikki Bywater,book reviewer:-
"When I first looked at the cover of this book I was drawn into the stillness and sadness of the empty bench. It sums up the same emotions we all feel when faced with the loss of a loved one. The book is not written to make sceptics believe that there is life after death; the book is Linn's true life personal story of why she came to believe that there is life after death and how she has taken a leap of faith.

The experiences Linn shares are very interesting and she covers some topics that really make you think. Some of these experiences moved me to tears, but by the end of the book I felt uplifted. This is a really good read."
Lou Graham, book reviewer and blogger:-
"I have searched many times since my early adulthood for some proof that there is more to life than what we see, so I was very excited to read this book. Linn makes it extremely clear in the first few pages that what she has written is not meant to try to convince you of afterlife activity, but is just one family's experiences. It is so beautifully written, I felt that I was sat in a chair with Linn just chatting to me rather than me reading to myself! The book is so engaging, makes you laugh, cry and want to know more with every page!
Read Lou's full review here Lou Graham's Blog
Susan Livingston, book reviewer 'Fascinating Books' and blogger:-
"When I read this book I was amazed at the things Linn went through to become the person she is today. I saw so many similarities between Linn and myself and Linn and my sister that floored me. Reading this book, I began to wonder how we're all connected. If we try really hard, can we feel what someone else is feeling? Do we want to do that? Do we really want to know what others are feeling? I also began to wonder about the connections we have with those who have passed on. I know that I have experienced many occurrences where my dad has visited me after his death, mostly just to let me know he's still watching over me. I always feel warm and loved when I know he's been there.

This book was an awakening for me. So many of these thoughts have flitted through my mind in the past only to escape my grasp. Now, I know I'm not alone and I can touch these feelings and thoughts."
Click here to read the full review http://bit.ly/HRqqIz 
Author & book Editor, Kit Domino:-
"Linn B Halton in no way tries to convince the sceptics amongst us that there really is life after death. Instead, she takes us on what is a very personal journey of her experiences, reflecting the reasons why, exploring the notions of coincidence. Linn delves into some very harrowing, heartfelt moments but written in her unique comfortable style, it is as though she is in the same room with you, talking to you. If you are looking for proof, you might find it here. Whether you do or not is immaterial, it's the fact that you have journeyed with her that is important. A fine read, indeed."