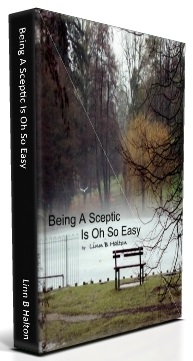 Let's start at the very beginning:-
1. Coming out
I don't think this book could possibly have had any other title, and for me it is a statement that holds more truth than the words impart.
I have to admit that I've been a closet believer in the existence of life after death for a number of years. Looking back over what has happened, the real turning point for me was probably in June 2004. However, despite continuing experiences that were increasingly difficult to ignore, I still managed quite successfully to let any trace of belief slip quietly to the back of my mind until fairly recently. When you see, hear or feel a presence, the memory tends to stay with you, but it's very convenient to let it settle undisturbed and out of sight. You never completely forget – you just hide from it for a while, because then you don't have to deal with the reality of what it implies.
As you read this story, you will learn that my husband Lawrence and I are serial movers; we've lived in thirteen very different properties to date. When our last house was on the market, I stood chatting to the Estate Agent whilst the young couple he brought along wandered around the property. I told him that I had fallen in love with the house the moment I walked through the little gate at the front, over which the branches of a large holly tree dipped quite splendidly. I told him that I knew we would live there, even before we had stepped through the front door. This started a discussion about the different atmospheres that houses can have, and having spent a couple of years working for an Estate Agent carrying out viewings myself, we began to swap stories.
I'm finding that is quite a typical reaction. People are hesitant to raise the subject, but as soon as it crops up everyone seems to know of someone who has had a brush with paranormal activity. What is amazing is the number of proclaimed sceptics who have actually had an experience themselves. This doesn't sound very logical, until you realise that as a sceptic you have nothing to explain or defend. I'm afraid coming out is the really scary part. Both of my parents are now on the other side and it is with their help that I have been able to move forward with my beliefs. They head up a long queue of loved ones who aren't content to let me sit back any longer.
This is my personal journey; it explains how I have arrived at this turning point and why I can now say, with heart-felt sincerity, I really do believe in life after death.
2. OK, I give up, I'll sit down and write it
It might be helpful if I start by explaining that this isn't an autobiography; it's also not my intention to try to turn readers who do not believe, into believers. I think you have to experience this for yourself and if you don't, then you aren't ready to see the bigger picture. So this is simply the story of how I came to believe that life after death really does exist. I have been shown that those who have passed over are still around us, and are influential in our lives on a daily basis.
I realise this is also, unintentionally, a chronicle of some of the houses in which I have lived throughout my life, although not all of the incidents that have happened were linked to a particular house. Some were very definitely linked to me as a person, rather than a place, whilst other presences moved with us from house to house. So anyone who has a love of different types of properties and styles might appreciate some of the detail. My husband Lawrence and I have enjoyed turning somewhat sad and unhappy houses into warm, welcoming homes. It's our hobby and we are two of those rather strange people who can actually say they enjoy moving. It's all about the thrill of the next challenge.
However, what is also interesting and unusual is what prompted me to sit down and write my story. You see, it really wasn't my idea at all – it was my mother's idea, a couple of months after her death in March 2009.