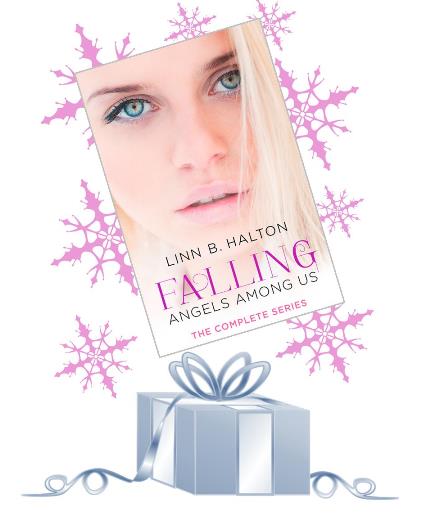 Everyone whose career is also their passion will reach milestones. November 5th – December 3rd, 2015 is one of those special moments for me. In the UK, Falling: Angels Among Us The complete series will be on the shelves in some of the WHSmith rail/airport/outlets for a four-week promotion.

What better way to celebrate, than for Ceri – the star of Falling – to sprinkle a little 'festive' love?
Launching the Rafflecopter #FallingComp
1st prize – one lucky winner can choose a gift of their choice, valued at £100/$150* (International)
2nd prize – two lucky winners will each receive one signed paperback of A Cottage in the Country – released 23 Sept 2015 (UK only; non-UK ecopy)
3rd prize – six lucky winners will each receive an ebook of their choice from any of my titles (International)
*(gift to be chosen from across the Amazon stores, or full cash prize via Paypal if you prefer to shop locally)
Take part here, or via participating blogs (see links below) – there are lots of different ways to join in the fun and grab your chance to be a winner!
What would YOU choose?
A special something just for YOU?
Or use the CASH to pamper yourself – or  even to help out with those holiday expenses!
*** Click and enter! ***
*** A month-long competition – enter as many times as you want***
Ceri thinks she sees angels … everywhere. She struggles to keep separate what feels like two very different sides to her life. As a manager in an advertising company she's been working with the gorgeous Alex for two years. The have a friendship based upon the image she portrays whilst she's at work and it helps to keep her sane. One mad, crazy night spent sharing their secrets and a lot of wine result in them ending up in bed together, and their relationship changes. When Alex explains that the reason he doesn't date is because someone broke his heart, how can Ceri admit that she feels a deep connection to him?
Ceri knows she's different. What she doesn't fully appreciate, is that her task in life is to correct a series of incidents that affect some of the people's lives with whom she comes into contact. She's simply putting right little errors that could ripple outwards and change the course of their destiny. When she finds herself getting pulled into things that happen around her, how can she prove that she really has made a difference? Is it all in her head?
She's alone for a reason; she's not meant to fall in love in her earthly life. Alex is supposed to cross paths with her and help Ceri, during a phase where she begins to question the signs she's being given. It's meant to be a turning point for them both—but in opposite directions. They are destined to travel very different paths … but Ceri doesn't know that and neither does Alex …
and it could be YOU!
A huge 'thank you' to every who has supported me in my writing career so far and my wonderful team at HarperImpulse!
Mega thanks to the lovely bloggers who are joining in at various points in the month to share the competition:
http://bookyramblingsofaneuroticmom.blogspot.com/2015/11/giveaway-from-linn-b-halton.html
http://joandisalovebooks.blogspot.com/2015/10/falling-angels-among-us-by-linn-b.html
http://vernadene.blogspot.com/2015/10/falling-angels-among-us-by-linn-b.html
http://tometender.blogspot.com/2015/11/falling-angels-among-us-by-linn-b.html
http://susanhorsnell.com/?p=2717
http://lilianflesher.blogspot.com/2015/10/author-linn-b-halton-is-celebrating.html
http://wp.me/p5O6iu-2l1
Entrants must be over 18 years of age. A gift (or gifts) to the value of £100/$150 may be chosen by the designated winner from Amazon, OR funds to that value will be transferred into the winner's PayPal account upon receipt of details.
Proof of entry requirements must be met before the prizes are awarded.
This promotion is in no way sponsored, endorsed or administered by, or associated with, Facebook or Twitter. We hereby release Facebook and Twitter of any liability. Winner(s) will be contacted by email within 5 workings after the giveaway ends.