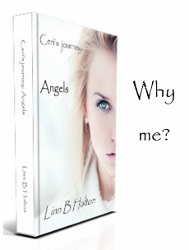 After a fabulous launch party on FB, Ceri's journey: Angels has received some wonderful reviews and it's thanks to the amazing people who joined in to celebrate!
I would like to say a HUGE thank you to everyone who dropped by, posted a comment and Tweeted/RT'd #cerisangels – it was hard to keep up with you all!
Here is the list of winners:
JB Johnston (most frequent participant) – Willow Tree Angel
Erin Missick (best angel story) – Glass Angel
Winners (drawn from a hat by Bill – aged 3 – thanks Bill!):
Michele Turner – Rainbow Maker
Petra Rovere – Crystal pendant
Heidi – Key ring
Janice Horton – Key ring
Joanna Gawn – Key ring
Katie Phillips – Key ring
Kim Nash – Key ring
Carol Wright – Key ring
Sue Fortin – Key ring
Congratulations to the winners, please send me your full address to lbhalton@googlemail.com, I can get those gifts sent off!
Here is a reminder of the prizes: