It's always rather special when reading a really gripping story that just happens to be written by a friend. Author Stephanie Keyes is a lovely lady with an amazing, and extremely supportive, family. As an author she is able to pull you into her 'imagined' world of fantasy and you will spent time with some wonderful characters.
Well, I've just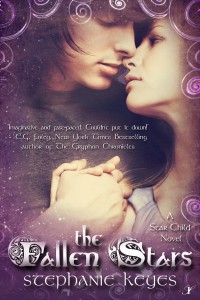 finished reading The Fallen Stars and here is my review:
"Magnificent!" Keyes' imagination is on fire, and you will be delighted as the story of Kellen St James and Calienta continues in book two of The Star Child series. The story is compelling and the ending is perfect – you are left with a sense of real satisfaction and yet expectation for the final novel to come in this series.
Whilst fantasy is still very much in play, I love the every-day setting as we follow Kellen and Cali whilst they are on the run. The blend between normal life and fantasy is spot-on and serves to accentuate rather than overwhelm the detail of their journey. Is a normal life together just within their grasp? How is it possible that Kellen could possibly turn to the dark side, as the prophecy foretells?
Having been introduced to a very 'young' Kellen in The Star Child, his maturity now shines through – although glimpses of the insecurity of youth still linger at times. The passion builds and you find yourself caught up in the emotions of their intense relationship. Superb job Ms Keyes – cannot wait for the final volume in this trilogy!"
The Star Child series began with The Star Child and a young Kellen St James. In The Fallen Stars (book no. 2 in the series) he has most certainly grown up! Stephanie did a great job of portraying the anxiety and paranoia of people 'on the run' whilst life around them continues with unfailing normality. The pace builds and ….
If I had to give one reason for buying this book (and I'd suggest buying both the first and second books) it's to escape for a few hours into a magical world. It might be YA fantasy, but as an adult you too will be transported … in true Lord of the Rings style!
The Fallen Stars (The Star Child #2)
Paperback, 530 pages| Expected publication: April 12th 2013 by Inkspell Publishing
Amazon | Barnes and Noble | Book Depository | Trailer | Add to Goodreads
Giveaway
Follow the Tour
Want to know where the tour is heading next? Check out the entire schedule here! Click to view the schedule.    
About the Author
Stephanie Keyes has been addicted to Fantasy since she discovered T.H. White as a child and started drumming up incredible journeys in her head. When she's not writing, Stephanie is also a graphic designer, international speaker, teacher, musician, avid reader, and Mom to two little boys who constantly keep her on her toes. In addition, she's best friend to her incredible husband of eleven years. Keyes is the author of the YA Fantasy series, The Star Child, which currently includes The Star Child (September 2012) and The Fallen Stars (April 2013), both released by Inkspell Publishing. She is currently hard at work on the third book in the trilogy, The Star Catcher. (Author photo courtesy of Kristina Serafini Photography) Follow @StephanieKeyes