Today I'm delighted to welcome Miriam Wakerly to sit in my guest's chair … and I must admit I'm keen to find out more about her latest novel … so over to Miriam!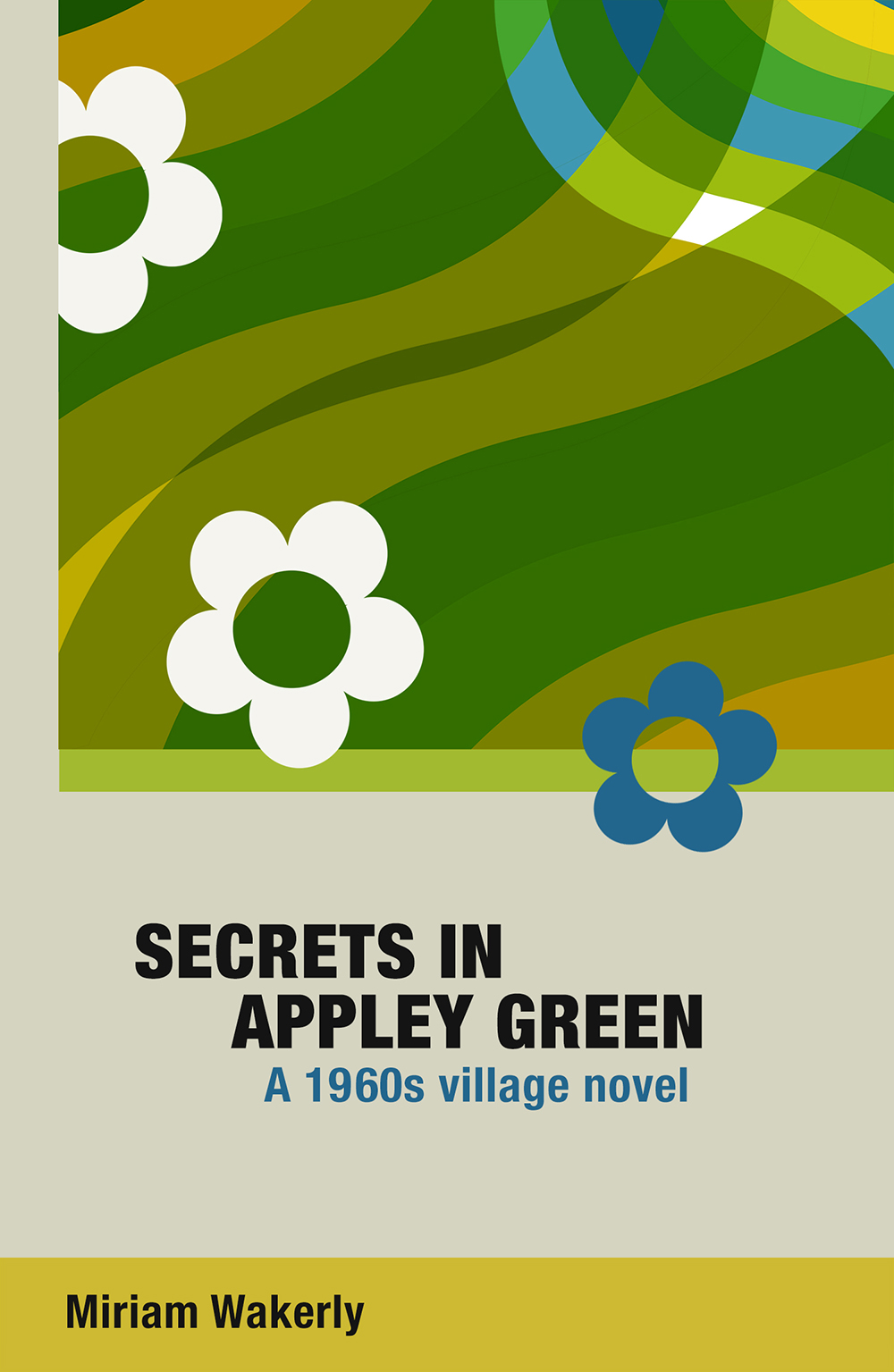 Are you sitting comfortably? Then let us begin. Who remembers that?
Ah-ha! The Sixties! The 'swinging sixties'?  People's eyes light up when I begin to tell them about this new one – my 1960s village novel.
I was born and brought up in Tetbury, Gloucestershire – known to Linn B Halton, who lives nearby and organised a writer's conference there a few years ago. There is a wonderful Facebook page called Old Tetbury where people have become aware of my books and are particularly curious about this one. Some of these Tetburians remember me, my family and my peers. Have I written about my old school-friends? This is what they are probably wondering, although they have read my other books too, so perhaps they are just curious about old school alumni.
Here in Surrey, where I live, I went to a U3A meeting last week where the talk was on The Sixties, a heaven-sent chance to spread the word about Secrets in Appley Green to an age-group that would be interested. I wandered about the theatre lobby with flyers and people were practically pulling my arm off! (We want it in print, I heard them cry!)
The reaction is very different from when I chatted to people in the 40 or so book-signings I did in Waterstones shops. 'Gypsies, you say?' I won't tell you some of the shocking, shameful comments and black looks I would get from some folk. Once I started talking to them, they invariably softened and ended up with a signed book, but the initial resistance was usually there, unless they were of Romany blood or worked with Travellers and knew them personally.
Shades of Appley Green and Secrets in Appley Green have nothing to do with Gypsies or Travellers. They do take a look at social issues and community life, though, and they do both have a love story with a twist.
Appley Green, my made-up village, is on the Surrey-Hampshire border, not in Gloucestershire where I spent  my teenage years. It is a mixture of places like Pirbright, Tilford and Frimley Green, featured in my village posts on the LoveaHappyEnding Lifestyle magazine. http://www.loveahappyending.com/category/village-life/
I hope you enjoy the story, the characters (some of whom are in my other books) and the trip into nostalgia or possibly unchartered territory, depending on your age! Of course you knew the answer to my initial question and you probably remember BBC Radio's Listen with Mother. It ran from 1950 until 1982, though, so that doesn't necessarily make you a child of the Fifties!
Thank you so much, Linn, for having me on your blog!
Amazon.co.uk  link for all my books:  – http://www.amazon.co.uk/s/ref=nb_sb_noss?url=search-alias%3Dstripbooks&field-keywords=Miriam+Wakerly
Amazon.com link for all my books – http://www.amazon.com/s/ref=nb_sb_noss?url=search-alias%3Dstripbooks&field-keywords=Miriam+Wakerly&rh=n%3A283155%2Ck%3AMiriam+Wakerly
Miriam's Ramblings – www.miriamwakerly.blogspot.co.uk