I'm delighted to be talking to the awesome Berni Stevens today. Multi-talented author and graphic designer, it's always lovely to meet up with Bernie for a chat!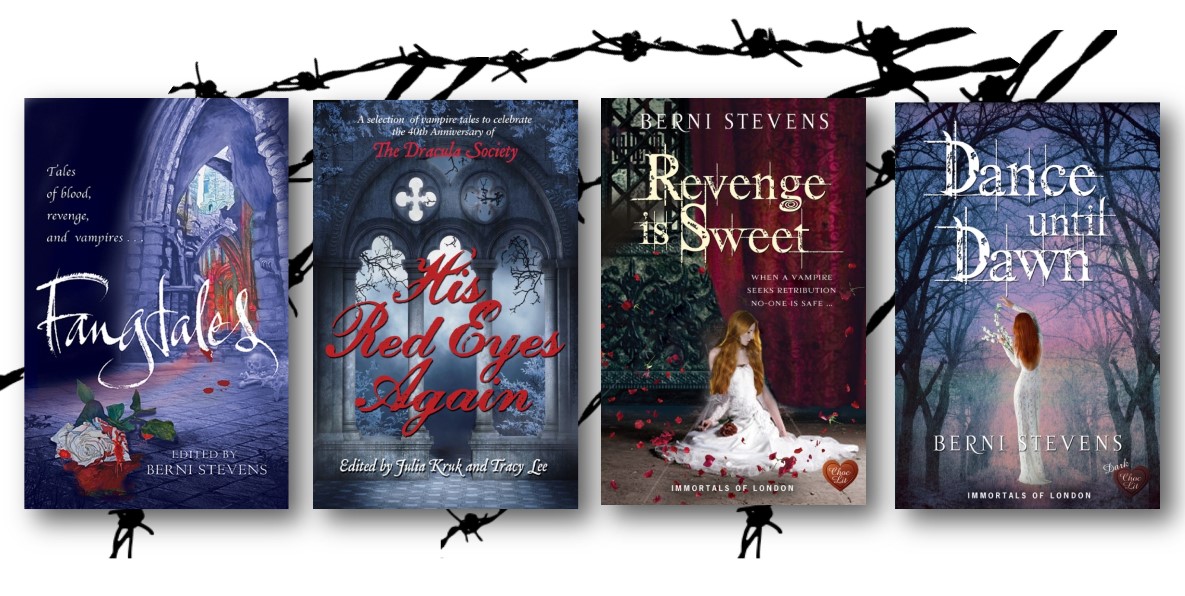 When you first put pen to paper were vampires top of your list?
Always, yes. I first read Dracula when I was an impressionable fourteen-year-old – and it really captured my imagination. It's still my favourite book, and I read it again every year. I always find something different each time I read it; such is the beauty of Stoker's writing.
I love reading folklore too – urban legends, ghost stories and of course anything with a vampire!
I heard a rumour that you are a member of the London-based Dracula Society – I'm starting to see a pattern here ha! ha! People will be thinking fangs and dripping blood, so do tell us more!
The Dracula Society is a literary society for fans of Gothic literature, film, TV and plays. We are all huge fans of Bram Stoker of course, and we celebrate his birthday every year on the nearest Saturday to his birthday (November 8th), with the Dracula Society Annual Dinner.
The Society travels to Romania, Whitby, Dublin, and other Dracula-related places. Some members go to Whitby every year – it's a very special place for us.
We have several meetings a year with special guest speakers. This year's Spring AGM features 'The Horrors Within' who are the writers within the Society (including me). There will be readings and a Q&A and hopefully some books will be sold too.
We give out two awards a year – The Hamilton Deane Award for the best Gothic contribution to film or TV – either a writer, director or actor – and the Children of the Night Award for the best work of literary fiction in the Gothic genre.
And no – we don't all dress up in cloaks and fangs – although we do have one of the Hammer Dracula cloaks in our archives – and yes I have tried it on! It's incredibly heavy, and remembering that Christopher Lee was at least 6'6" –much too long for me!
I've been on the Committee and the book panel of the Society for eight years, and I design their  quarterly newsletter – and anything else that needs designing. I look after the  Society Twitter page too, whilst other committee members look after the Facebook page and the website.
Does your day job as cover designer extraordinaire (love the covers you have done for me!) help when it comes to your writing career?
Not really, no. Although having always worked in publishing, it means I read a lot, which might help my writing. I worked for most of the big London houses before going freelance in 2003. Although I did freelance for both HarperCollins and Transworld between 2003 and 2010.
It does help knowing the business, and having a lot of editor friends, who gave me some much-needed advice when I was working on my first novel.
WHENEVER OUR PATHS CROSS WE ALWAYS TALK ABOUT the awesome, and much missed, David Bowie. How inspirational has his music been to you?
Both the man and his music were a massive inspiration for me. I've always been a dedicated rock fan and I go to as many live concerts as I can afford. I saw Bowie seven times and every time he blew my mind. I think he may well have been my first love.
He trained in graphic design too – and he was one of the reasons I chose graphics. I had quite a lucrative business going before I went to art college, drawing portraits of rock stars – many were of him!
Bowie was never afraid to be different, and I think that was one of the most amazing things about him. He never followed fashion, he set it. If everyone had long hair, he had his short and vice versa. When men wore earrings, he didn't, only to wear them again years later when everyone else had stopped. His charisma could hold an audience spellbound no matter how many thousands of people were there.
When I went to the David Bowie Is exhibition at the V&A, I could have happily moved in and lived in those five rooms. There were storyboards, cover art, fashion designs, lighting designs, lyrics – all done by the man himself. So much talent in one person. He never stayed still, he was a workaholic right up to the end, I think we're all privileged to have been on the planet at the same time as him.
I cried for days when he died, I was beside myself. I took flowers to the Ziggy Stardust plaque in Heddon Street (off Regent Street) the day after his death was announced.
On what would have been his 70th birthday on the 8th January this year, I went to the Bowie Celebration Concert in Brixton (his home town). The concert featured his own band including the amazing Mike Garson and Gail-Ann Dorsey and was introduced by his good friend Gary Oldman. It was fabulous being under the same roof as his band again and to be with so many like-minded people. We danced, we sang, and we cheered. Everyone knew all the words to every song, it was amazing. And I think we did him proud.
Thank you for some surprises answers, Berni and David Bowie is an icon whose legacy is continued by his fans – and those of us who have memories of him that we cherish. He was a part of so many peoples' life journey, the backing track to so many personal milestones.
And as for those covers – as I said, multi-talented! Doesn't everyone need a little vampire fix now and again? If you do, then look no further than the awesome stories told by Berni Stevens!
Berni's Amazon author pages: 
https://www.amazon.co.uk/Berni-Stevens/e/B007C5GDRU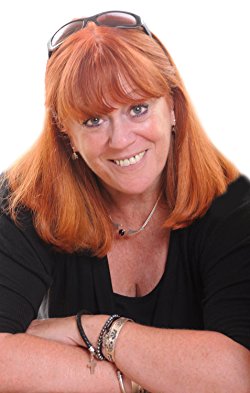 Berni Stevens lives in a 400-year-old cottage with her husband, black cat, four goldfish who think they're piranha, and occasionally her son when he comes back for some TLC. She trained in graphic design, and has worked as a book cover designer for over twenty years.
Her love of paranormal fiction began at school when she first read Bram Stoker's Dracula, and she's been a fan of the fanged ever since. She is on the committee and the book panel of The Dracula Society – a literary society for fans of gothic literature and film.
Dance Until Dawn, a paranormal romance, was Berni's UK debut with Choc Lit, published 7th April 2014. Revenge is Sweet, the sequel, was published in eBook format on 12th July 2016. Now the third novel in the trilogy is well under way, with a story that centres on a lovelorn werewolf!
Berni has several short stories published in various anthologies; romantic, gothic and sometimes just plain fantasy!