Welcome Emma! I'll be visiting Paris again in June, so your article is making me want to begin counting off those days on the calendar….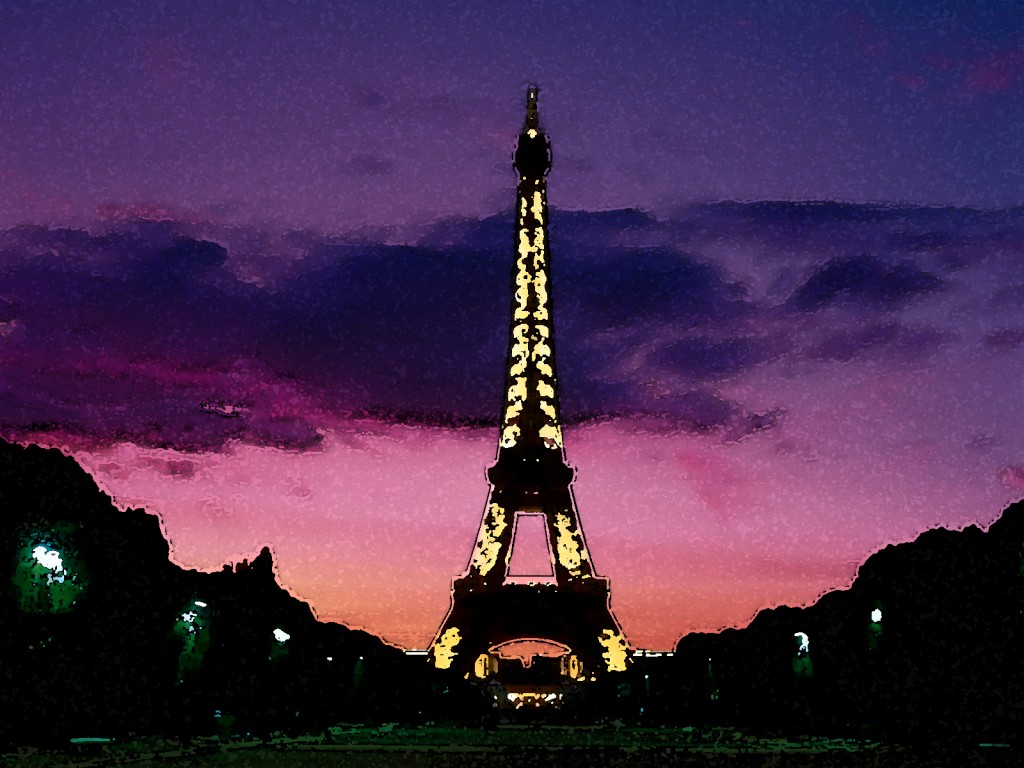 Thank you Linn for letting me visit your blog today to talk about what is for me, the most romantic city in the world – Paris.  I never tire of visiting, whatever the time of year and whatever the weather.  Even on a cold grey damp day, there is something magical and poetical about The City of Lovers.  The first time I visited Paris was at Easter with a French pen pal and her family when I was about 15 and from then on I was totally hooked.  Whenever the days start to get longer and the sap starts to rise, I yearn for Paris.  This year I feel particularly bereft, having missed out on a long-awaited and much-anticipated visit last year which was cancelled after I slipped over badly on the ferry crossing – but that's another story!
As a francophile and living much of the year in rural South West France I am frequently surprised that many of my neighbours have never visited their capital city.  It was inevitable that my international romance 'Knockout! A Passionate Police Romance' would feature Paris and of course, a hero with a French father and American mother.  One of the most romantic encounters between the lovers Anna and Freddie takes place in this city.  Here is a video including poetical excerpts from the book to give you a flavour of their romance…
Our Love In Paris – video with heroine of the story Anna remembering their love in Paris. 
My favourite place to stay is Pigalle and all the the shots in the video are from my own photo collection. Home of the Moulin Rouge and many disreputable bars, but also a vibrant residential area there is a multitude of local cafés, restaurants and small old-fashioned family run businesses offering meat, fish, chocolate, coffees, bread, pastries and ethnic foods.  There is a room on the 7th floor of  our favourite hotel with a window that looks out over the rooftops of Paris and on to the magnificent white dome of the Sacré Coeur.  The lift only goes to the 4th floor, so you have to trudge up the last 3 flights – but it's worth it for the view (and also helps burn off the calories from the gourmet meals!).  If you want the number let me know – don't expect five star luxury – this is typical functional quirky french. The décor is a bit old and shabby, there is a double bed and and bathroom but barely the space to swing 'un chat'.  All is forgiven for the panorama over the city.
'Knockout! A Passionate Police Romance' is a romance/suspense with plenty of action and adventure as well as a passionate love story.   It is available on Amazon in both Kindle and print formats.  With over 40 reviews worldwide, 4* average rating, it is a popular novel for readers looking for a fast-paced thrilling ride interwoven with a strong romance.
View the book trailer here: YouTube Trailer for Knockout!
KNOCKOUT! A Passionate Police Romance by Emma Calin
Interpol cop, Anna Leyton, spirals down into a hopeless vortex of sexual and emotional passion as she fights to keep her professional cool. Who is deceiving who in this fast moving ride across continents?  What motivates her art loving prize-bull of a lover Freddie La Salle? The power of love and trust stands against greed and crime as conflicting forces grapple for that knockout punch.
 KNOCKOUT!  on Kindle and in print: Amazon Worldwide
Amazon 5* Reviews:
Stephen Woodfin – Suspense, intrigue and romance: What else do you need? 10 May 2012
Emma Calin refers to this book somewhere as a "genre-romance with a bit of added suspense." That is like describing TO KILL A MOCKINGBIRD as a children's story with a trial thrown in for extra measure. Calin gives readers much more than steamy bedroom scenes, although she doesn't scrimp on those.  She frames the book around a story of high stakes gambling on a world class boxing match. The fix is in, or is it? The Mob has a lot of money on the fight and it wants to make damned sure it has a good return on its investment. The protagonist, Anna, is from time to time investigator, undercover operative, bait, lover, captive. Freddie, the beautiful boxer, who has the power to make or break the deal, also is not what he appears. He has a secret of his own that drives him and threatens to jeopardize his ability to go for the jugular at the crucial moment. He, too, is playing all sides against each other.  Emma Calin has delivered a knock out punch of her own. Highly recommended.
André LeGallo – LUST and the LAW, 4 Jun 2012
Captivating characters, venues, action, and scenes combine to make Emma Calin's KNOCKOUT! a great read. Anna is a detective inspector with unmet needs and Freddie is a world class boxer with artistic parents. Their mutual chemistry takes hold immediately, initially in the back of a taxi, and doesn't let go making for memorable sex scenes. Each driven by secret personal and professional agendas, they meet in attractive international settings. Anna's law enforcement objectives sometimes trump her hormones but it's always a close-run thing. Is Freddie owned by Mafia gambling interests? The reader is offered an informed glimpse of the FBI and of its British counterpart. Likewise, the author shares her profound knowledge of the criminal world and of the sophisticated big boat culture.  KNOCKOUT! is easily the best of its genre that I have read.
About The Author:
Emma Calin was born in London in 1962. She currently lives in France and the UK.
She has been writing since childhood and has won numerous local, national and international prizes for poetry and short stories.
"Knockout! A Passionate Police Romance" is a love story set against a backdrop of international gambling corruption and deception. Interpol cop Anna Leyton finds herself torn between love and duty when her professional and private life intersects.
"Sub-Prime" is a prize-winning hard hitting short story about courage, exploitation and love. It is a raw and brutal exposé of life at the bottom in the aftermath of recession. Available in Kindle format which includes a FREE downloadable audiobook
"The Chosen" is a short story set in modern times where working people struggle to keep their dreams alive. A world where the promise of love motivates desperate measures. Available in Kindle format, which includes a FREE downloadable audiobook.
"ESCAPE TO LOVE" a gritty suspense romance 'novelette'. A woman on the run from domestic violence with no one but her vulnerable autistic teenage child as a companion, lives in isolation and fear. While her hand to mouth scenarios are played out in the shadow of a threatening suspense, a story of crime and love unfolds around her. She cannot risk her child. Her own longings for love and romance have to take a poor second place.  When the fallout from a prison break, a hero rescue and a murder mystery crash through her door and into her need and loneliness, it is no longer a crime story. It is a question of when Love in itself is a crime and how far a woman will go in its name and for those she loves.Available in Kindle format with a FREE 1 hour 20 minute audiobook.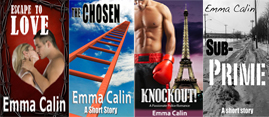 Links:
KNOCKOUT!  on Kindle and in print: Amazon Worldwide  
Emma Calin Blog: http://www.emmacalin.blogspot.com
Emma Calin Website:  http://www.emmacalin.com
Facebook: http://www.facebook.com/emma.calin
and pages: http://www.facebook.com/Knockout.Romance.Novel & http://www.facebook.com/TheChosenbyEmmaCalin
Twitter: @Emma Calin
Pinterest: http://pinterest.com/emmacalin/
Goodreads: http://www.goodreads.com/author/show/4915751.Emma_Calin
 
Other books by Emma Calin:
Sub-Prime   – Amazon worldwide
The Chosen – Amazon worldwide
ESCAPE TO LOVE  – Amazon worldwide