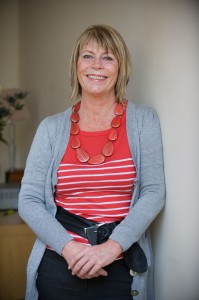 I was having a girlie chat with the lovely Sheryl Browne and we began talking about lessons life had taught us; as we swapped stories I thought .. I probably know a few people who might be interested in hearing all about this. So be a fly on the wall and hear what Sheryl had to say, she always has me in stitches …..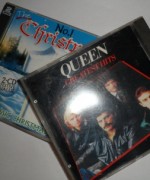 Things in life I've learnt and wish I hadn't?  Hmm, I'm assuming you mean less mundane things than how to pluck and stuff a turkey and decorate the lounge, probably at the same time if we're approaching Christmas and he who normally struggles to lift the remote has dusted off his Queen CDs, turned into a party animal and invited relatives he didn't know he had to come over and boogie along with him.
Linn: Ah, I get the picture! Like the time I thought it would be wonderful to bone a raw turkey,then stuff and roll it … with only a multi-purpose knife I'd had for years … it wasn't a pretty sight!
OK, so getting away from life lessons, such as learning to control your impatience in the supermarket queue, because – even if someone is being totally irritating, you never know what trauma might be going on in their life, I'm going for more practical things.  Let me think.  Ah, yes, like changing the fan-belt.  Fan-belt in question being down the oily well of  a boat; well of boat being only big enough to accommodate a person of small stature, which would me, while ship's captain peers down below to make one or two helpful suggestions – in answer to which I have one or two of my own.
And cleaning out the water tank.  Older boats tend to have built-in water tanks, which have to have the rust and lime-scale scraped off – from the inside.  Need I say more?  No…  Ship's captain sensibly refrained from comment that time, too.
Linn: I like the sound of the Ship Captain, seems like a man who has life sussed. WATCHING someone cleaning out the rust and lime-scale is probably not at all stressful with coffee in hand and newspaper in the other… missed a bit there Dear! Ha! HA!
What else?  I'll just have wee sip of wine while I think.  Oh, yes, that you could skydive for charity.  Claiming you would love to do that in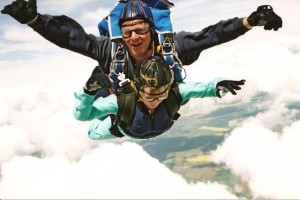 front of someone who would go to the ends of the earth to make your dreams come true (the skydiving centre's booking office) is not a great idea.
I'm the one underneath, looking not quite so ecstatic.  I wish someone had mentioned that fast descent leads to very snotty nose.  My tandem buddy lost the smile when he asked for a kiss as we landed.  Can't think why.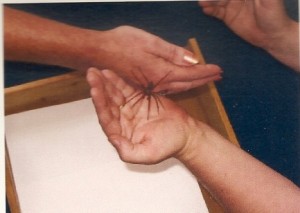 OK, lastly – and if you are cursed with the same phobia I had, arachnophobia, look away now.  I'll make this picture tiny, so it's not so scary to those that do.
The hand the little beastie is crawling off is mine.  And, OK, I am glad I found out there was a cognitive therapist practising in the office above me, even if I had initially gone in with views of leaping out of the window – minus skydiving buddy.   It worked!  A lifelong terror was gone in a couple of hours.  In retrospect, maybe some of the things I wish I hadn't/didn't have to learn were worth learning, after all.
Linn: Seriously Sheryl, I have to teach you how to say 'no', it isn't that hard once you get used to it. BTW, your glass is empty…
Pass the bottle then, Linn.  I think we've earned another wee top-up……..
To find more info about Sheryl, her books and her mad-cap life:-
Author blog: http://www.sherylbrowne.com/
Author FB page: https://www.facebook.com/pages/Recipes-for-Disaster/245372252189480
Twitter A/c @SherylBrowne: https://twitter.com/#!/SherylBrowne
Amazon.com (buy): http://ow.ly/bkgZt
Amazon.co.uk (buy):  http://ow.ly/bkh48
Publisher: Safkhet Publishing LLP
loveahappyending.com Author page: http://loveahappyending.com/sheryl-browne/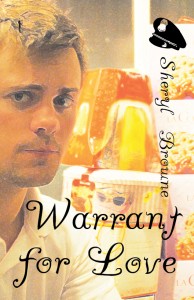 Remember to look out for Warrant for Love – coming in August 2012!